The 6th and 7th of October saw the return of Brighton SEO – one of the largest search conferences in the world! This year we were delighted to send our digital marketing executive, Ellen White and paid marketing manager, Lorenzo Campbell, down to Brighton to explore the action. Here's what they had to say about the trip:
"Brighton SEO organised an impressively packed schedule, with talks running from 10am until 6pm, plus plenty of opportunities for networking (and a drink or two!). This year's agenda covered everything from AI and SEO, to accessibility in social media, link building, content strategy, GDPR and corporate sustainability. It was impossible to attend every talk we wanted to see in person but we'll be catching up when they're posted online in a few weeks time!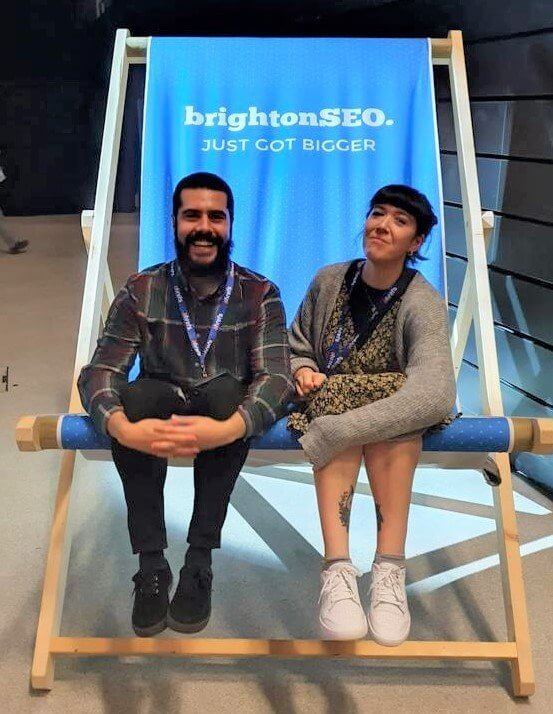 Overall, it was a really fulfilling experience and we also had the opportunity to connect with some of our clients in person, as an added bonus. There's a lot to be excited about in the industry and we're feeling very positive as we head into 2023, so with this in mind, here are some of our key takeaways from this year's conference!"
Get to grips with GA4 – ASAP!
One of the biggest takeaways from Brighton SEO 2022 was the importance of getting to grips with Google Analytics 4. The deadline for the switch from Universal Analytics (or GA3) to GA4 is July 1 2023, but the sooner you can start collecting data in GA4, the better.
Analytics expert Krista Seiden gave a great keynote speech on the first day of the conference, covering why clients should love (not fear!) GA4. Yes, it's new and unfamiliar, but there's also a lot to be excited about. For example, for the first time ever in GA history, you can modify not only the left hand navigation, but also the reports themselves. The new data model also offers a lot more flexibility and structure, for easier scalability.
Need help getting started with GA4? Get in touch with us today.
Increase accessibility
There are 14 million people living with a disability or difference living in the UK, but 84% say they regularly struggle to access social media. This has a negative impact not only on their experiences, but on businesses too. Failure to make your social media accessible excludes 8.5 million potential customers and people with disabilities and learning difficulties have a spending power of £274 billion (and rising).
There are plenty of quick and easy ways to instantly make your content more accessible, from using a strong colour contrast between the text and the background, to adding detailed alt text descriptions. It's also important to punctuate hashtags, which is something that you can implement straight away. Screen readers can't read non-punctuated hashtags, so use things like #BrightonSEO, not #brightonseo.
Omni-channel SEO strategies
Many agencies already adopt an omni-channel approach (us included!) and Brighton SEO reinforced the importance of this approach. Consider less 'obvious' channels such as Pinterest and podcasts, and ensure your website works as a complete hub for your brand. You want visitors to be able to find everything they need, regardless of which channel they used to arrive there.
Keep up to date with the latest channels too; for example around 40% of Gen Z use TikTok, not Google, for search. Reasons include 'because it's faster' and they prefer to learn through video – both great pieces of feedback that can be used to inform your SEO strategy on other platforms.
Get to know your client archetypes
Many of us have heard of brand archetypes, but this can be applied to clients as well. Identifying the archetype of each client allows you to build stronger relationships, as you can learn to communicate and deliver information in a way that will appeal to them.
For example, if your client is a 'dreamer' you'll want to tell a story and ideate together- don't bore them with data and stats! By contrast, an 'engineer' loves data, so invite them to problem solve and go into the finer details in your reports. Of course, most clients will be a mix of several archetypes but we found that this talk was a great starting point. Watch out Noble clients!
Strategies to stop content being 'ghosted'
Another interesting takeaway drew comparisons between marketing content and dating profiles! We learnt some great tips and tricks to make content more engaging and reduce the chances of it being 'ghosted'. Here are some great places to start:
Make your content accessible – Accessibility is another key factor here; for example, did you know that captioned videos get 40% more views on average and a 26% increase in click rate?
Listen to your audience – Top performing content isn't a one-way street, it listens and creates a conversation. Interactive content could be a poll, question box or collaboration with another company, and don't forget to engage with the audience as well. Likes, responses to comments and re-shares all help to build brand awareness and connect with your audience.
Different platforms, different content – Sharing the same post across every channel saves time, but your content will be more valuable if you can make it unique for each different platform.
Be sincere – Audiences are quick to recognise when a company is jumping on a bandwagon. Don't post content unless it sincerely aligns with your values and principles all year round.
We hope you enjoyed our roundup of Brighton SEO 2022, if you want to know how Noble's unstoppable digital performance marketing can help you, contact us today!