Here at Noble Performs, we love Bristol. We also love the summer. We especially love a good overlapping of two things that we love. With that in mind, here are 5 of our favourite things about the Bristolian summer, authored by some of our team.
Bristol Harbour Fest
There are so many awesome things about Bristol in the Summer. One of the stand-outs to me, in particular, has to be Harbour Fest – a mega event with great food, amazing music, and just full of people enjoying themselves!
If Harbour Fest doesn't peak your interest, then absolutely nothing beats hanging out with your pals on one of Bristol's greens, soaking up the sun and having the best time. The atmosphere is electric wherever you end up!
It really is the place to be in the Summer. So many events and so much fun with everyone involved, the perfect combination!
– Alex Tonkins
The Bristol International Balloon Fiesta
Even after spending my whole life in Bristol, there is still something magical about seeing distant hot air balloons fill the evening sky every summer.
Humbly beginning in September 1979, with just 27 balloons taking off, the Bristol international balloon fiesta has since become a staple of the summer, not only for Bristolians, but for balloon enthusiasts the world over. Every year, over the course of 4 days, hundreds of thousands of people gather at Ashton court to see the balloons take off. It's a spectacle that can be seen over the whole of Bristol and the surrounding area but there's something special about being in the crowd, watching the balloons begin their journey by floating off into the sky. As with many things in Bristol, and the way that the community so often bands together, it lets you feel a part of something bigger than yourself; reminding you that you're small in the best possible way.
But you don't have to be a freak about big balloons in order to have a good time at the fiesta; Ashton court gets overrun by live music and food stalls, and there's even a place to dump the kids when you're sick of them. You have to take them back after, but still.
Maybe that's still not doing it for you, though. Maybe you really like watching tiny little fires flicker on and off in the night sky while you listen to a soundtrack curated by the team at BBC Radio Bristol. It's very specific, but maybe that's you. If it is, you're bound to love the night glows, which take place at 9pm on Thursday and Saturday.
– Abdur-Rahman Shafi
Summer Picnics
Bristol…is so much better than London for summer picnics – there.. I said it!
My absolute favourite thing to do when we're #Blessed with good weather (still waiting as of August 4th 2023) is stuffing a backpack with brie, crackers, nocellara olives (pretentious, I know but they must be nocellara), and your orangest bottle of aperol spritz and hitting one of Bristol's incredible green spaces. From The Downs, St. Andrews park, and back to the Clifton observatory, it is undeniable how spoiled we are for great summer picnic spots.
Picnics are a great way of doing nothing, but at the same time 'something', on those hot British days that we're otherwise really not well equipped for. They allow for frivolity, fresh air, earlier than usual cocktails, people and dog watching and there's always, always someone having a great time slacklining between trees.
As long as you don't mind sneezing yourself into oblivion from hay fever, a picnic is the perfect summer activity, and one that should be enjoyed by everyone lucky enough to call Bristol home.
And remember, they MUST be nocellara. You can skimp on anything else, just not the olives.
– Ruth O'Reilly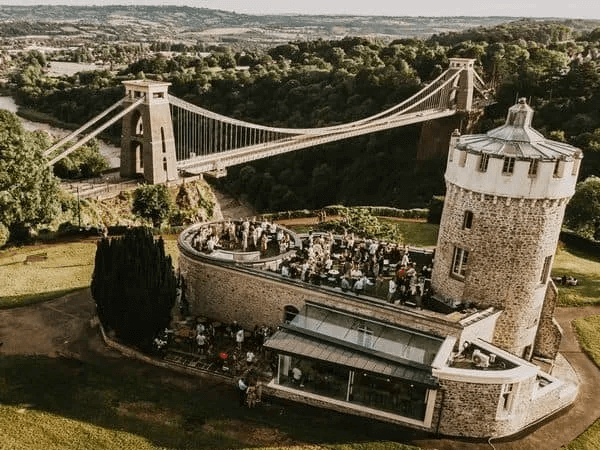 Bristol Harbourside
I love Bristol. I love everything about Bristol. Well I love most things about Bristol, nowhere's perfect… and of course this means that I particularly love Bristol in the Summer.
The summer months are about more than just the sun. When you go on vacation, whether it's to ski the snowy slopes of the Alps or horseback riding in the arid Saharan desert, you're seeking one thing – that whimsical feeling that gradually takes over as you set off on your adventure. This feeling can take the form of a tingle in your toes, a warmth in your chest, or a floaty feeling, like you're walking on a cloud.
Well… Bristol harbourside in the summer instills those very feelings. Every. Summers. Day.* From Sunday to Saturday Bristol Harbourside is charged with the electricity of friends relaxing on the bank, limbs dangling leisurely over the water, golden pints glistening in the sun, and food stalls scenting the air with spices from around the world.
I don't know if there is one particular ingredient that makes Bristol harbourside so magical, or if it's a combination, but every time I walk through during the summer months I experience the tingling, warm, floaty feelings I associate with holidays, and that's why it's my favourite place. …Although those feelings might be a result of Bristol's… 'earthly'… scented summer air.
Either way, Bristol Harbourside in the summer IS 'The Summer'. And I highly recommend you experience it for yourself.
*the beautiful British weather demands I caveat this was a "T&C's apply"
– Lorenzo Campbell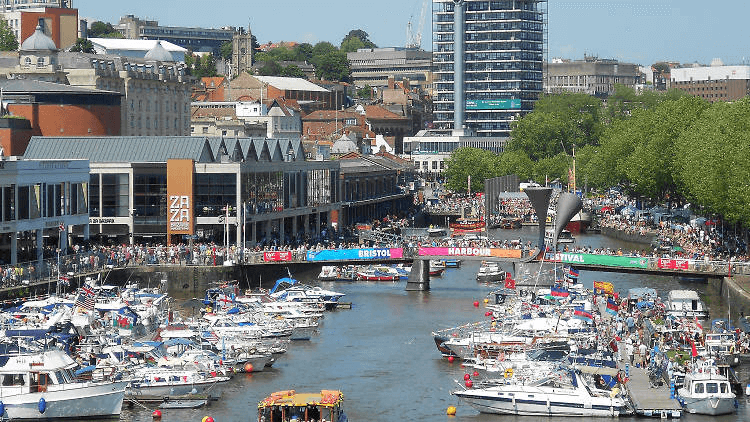 St Nicholas Market
Ah, let me tell you about the groovy wonderland that is St Nick's Market in Bristol! Picture this: a vibrant maze of alleys, stalls and historic buildings – right in the heart of the old city. It's like stepping into a kaleidoscope of flavours, sights, and sounds that'll tickle your taste buds and make your heart dance with joy.
As you wander through the colourful lanes, you'll be whisked away on a delightful adventure with vast amounts of goodies from local traders and artisans – from vintage treasures to handcrafted marvels, there's something for everyone.
And oh, the food! Prepare to have your taste buds serenaded by an orchestra of flavours. The Street Food Market is happening every Tuesday and Friday (11am to 2:30pm), so make sure to arrive on an empty stomach and try as much as you possibly can.
Feeling thirsty? No problemo! A great selection of bars with craft beers, classic pubs and cocktails bars will set you up for a great day.
Walk around the area and enjoy the signature graffiti art that's as cheeky as it is beautiful, visit the quirky little shops hiding around corners, and enjoy street performers who'll entertain you with their dazzling skills. And don't forget, St Nick's offers night-time market too – just be sure to check what's on before setting off on a night-time stroll.
Whether you're a local legend or a curious wanderer, St Nick's Market welcomes all with open arms.
– Jegor Zavarin
So, there you have it; some of our favourite things to do and see in Bristol during the summer. Do with it what you will. If you're not from Bristol, we hope we've convinced you to get down here. If you are from Bristol, we hope we've reminded you of what a great place it is that we live. Not that you needed it.